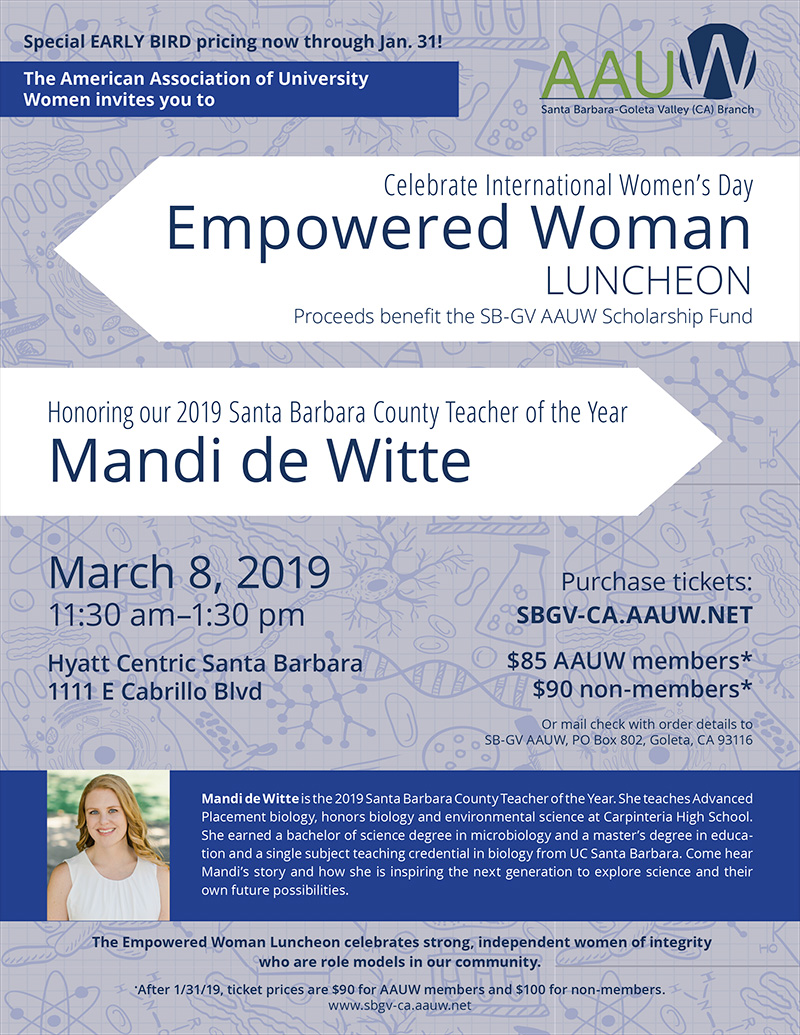 Celebrate International Woman's Day with us and support AAUW grants for women in higher education! Celebrate International Woman's Day with us and support AAUW grants for women in higher education!
The Empowered Woman Luncheon celebrates strong independent women of integrity who can serve as role models for all women in our society. This year we will honor Mandi de Witte, 2019 Santa Barbara County Teacher of the Year. Learn more about the event.
Tickets on sale now!
---
Our branch empowers women and girls in our community to reach their highest potential by providing networking, resources, respect and support.
The American Association of University Women (AAUW) empowers women and girls through advocacy, education, philanthropy, and research. Our nonpartisan, nonprofit organization has more than 170,000 members and supporters across the United States, as well as 1,000 local branches and 800 college and university partners. Since AAUW's founding in 1881, our members have examined and taken positions on the fundamental issues of the day — educational, social, economic, and political.
Santa Barbara – Goleta Valley AAUW:
Impacts local, county, California, and national issues through our branch, the Santa Barbara County Interbranch Council, and AAUW at the state and national levels.
Sponsors local community forums and action projects.
Promotes equity in employment both through our Legal Advocacy Fund and our lobbying efforts at the local, state and national levels.
Supports women's rights to health care, including all aspects of reproductive health care.
Enhances the cultural life of our members and the community.
Supports education for women through AAUW Funds, the largest source of fellowships for graduate women in the United States, and through our local branch's Dr. Lynn Cavazos Fellowship.
Encourages local young women to consider STEM careers by sending them to Tech Trek, AAUW's summer science and math camp for junior high girls.
Provides our members with opportunities for fun, fellowship, friendship, and personal growth.